Standard House Chip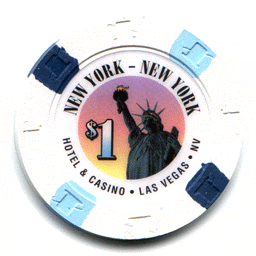 Identical Front/Back
New York-New York
3790 Las Vegas Boulevard South
Las Vegas, Nevada 89109

Owner:
MGM Mirage [MGG]

A Little About New York-New York
The scaled-down recreation of the Manhattan skyline at New York-New York is one of the most eye-grabbing sites on the Las Vegas Strip. The 12 skyscraper replicas contain 2,020 guest rooms which rise over an 84,000 square foot casino. The various slot banks and table game pits are named after various parts of New York City (the high limit slot area, for instance, is called Wall Street) and the sports book is named the NY Racetrack. This sort of cheesy misappropriation of New York City landmarks is pervasive throughout New York-New York. The slot players club used to be called "New York Slot Exchange" before NYSE filed a trademark-infringement lawsuit.

On the plus side, the Manhattan Express roller coaster is extremely cool. New York-New York is also home to the ESPN Zone Las Vegas, where you can stand up and cheer loudly for your favorite teams while dining on overpriced bar food.

Submit your own comment on New York-New York.