« Clubber Lang And Santa Claus Suck, Too | Main | So Michael Jackson And Darryl Strawberry Walk Into A Bar... »
December 23, 2003
Dazed And Disarmed
CNN.com's lead story this morning is on Libyan leader Moammar Gadhafi's decision to dismantle his country's weapons of mass destruction program.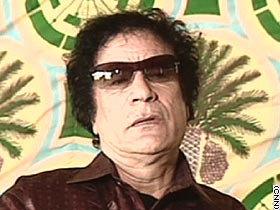 Selected quotes from the man who played the role of "crazed Arab terrorist bogeyman" during the Reagan Administration:
"We have not these weapons," he said, adding that the programs he is prepared to dismantle "would have been for peaceful purposes -- but nevertheless we decided to get rid of them completely."
Gadhafi questioned why people think Iraq had something to do with his decision. "So many countries have a nuclear program and actually some of them have weapons of mass destruction and such countries actually dismantle these programs in a transparent way, in a legal way."
"Dude, I am, like, so high right now. Do you know how hard it is to score good hash -- you know, the Lebanese stuff -- when your country is under UN sanctions? Just don't ever go there, man."

Posted by Dan at December 23, 2003 07:06 AM
Comments
Dictator or 70's porn star? The look is oh_so_flexible!
Posted by: h-ed at December 23, 2003 07:54 PM
Post a comment
Thanks for signing in, . Now you can comment. (sign out)
(If you haven't left a comment here before, you may need to be approved by the site owner before your comment will appear. Until then, it won't appear on the entry. Thanks for waiting.)