« It's Kind Of A Pain Rush... | Main | Use The TASER! Use The TASER! »
February 18, 2004
Black Helicopters Soon To Be Available In Pinstripes
Now available: a bold new fashion statement for the beleaguered members of the Red Sox Nation who've come to believe that George Steinbrenner is in cahoots with the Trilateral Commission, the Illuminati or possibly the Dark Prince, himself. Commissioner Selig wants you to believe that the "length and complexity" of A-Rod's contract and the "quality of the talent moving in both directions" justifies the blockbuster Soriano-for-Rodriguez-and-a-boat-load-of-cash-that-the-Yankees-don't-even-need trade. Just like they want you to believe that Aaron Boone, a career .270 hitter in a 2 for 16 ALCS slump, just happened to knock Tim Wakefield's first pitch into next week to end yet another post-season dream for the Fenway Faithful.
You know better!
You understand the vast conspiracy to keep Red Sox fans down. You know that the "Curse of the Bambino" is actually a carefully cultivated myth that conceals a nefarious plot involving the CIA, the liberal media establishment and most likely the Russian mafia. Dan Shaughnessy is on to something, but his superiors are forcing him to keep a lid on things!
Now you can show your Red Sox pride while protecting yourself from the powerful mind control rays used by the Evil Empire to control their hidden army of sports journalists and major league baseball executives. Introducing the new Tin Foil Red Sox Cap: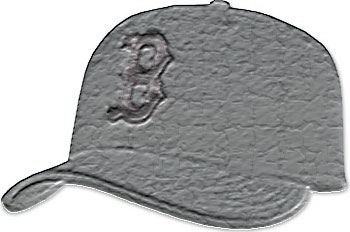 The Tin Foil Red Sox Cap blocks all harmful mind control rays surreptitiously broadcast by the YES Network, including the ultra-powerful "WTF Rays" that caused Grady Little to leave Pedro in to start the 8th inning of game 7. Order yours today! Operators are standing by.
Posted by Dan at February 18, 2004 10:01 PM
Comments
Outstanding investigative journalism.
The tinfoil Bosox lid will be the "must have" accessory for the new season!
Posted by: Lyle at February 19, 2004 01:11 PM
Red Sox and Cubs Fans suck, move on and stop dwelling on "curses." Both of you are not cursed, you just can't win the big game...you CHOKE!
Cub fans are especially the worst, they are the "lovable losers" and they are loved for that. At least the Red Sox compete every year. The Cubs finally make it to the playoffs now they are the best team on earth...HA!
Enter reality, both of you guys and realize that the other Sox are the best!
Posted by: Rich at February 21, 2004 05:17 PM
Posted by: posty at September 5, 2004 11:45 PM
Posted by: posty at September 5, 2004 11:45 PM
http://home.comcast.net/~posty/tinsox.jpg
great minds think alike
Posted by: posty at September 5, 2004 11:46 PM
Post a comment
Thanks for signing in, . Now you can comment. (sign out)
(If you haven't left a comment here before, you may need to be approved by the site owner before your comment will appear. Until then, it won't appear on the entry. Thanks for waiting.)