Standard House Chip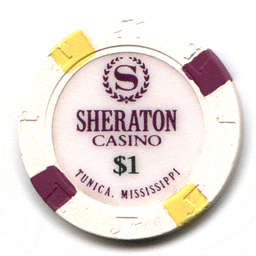 Identical Front/Back
$2.50 House Chip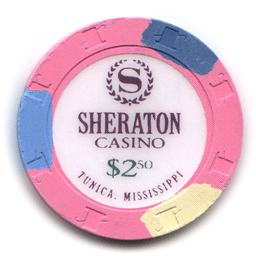 Identical Front/Back
Sheraton Tunica
1107 Casino Center Drive
Robinsonville, Mississippi 38664

Owner:
Park Place Entertainment Corporation [PPE]

A Little About Sheraton Tunica
The Sheraton has the best low-stakes action in Tunica. It's a great place to go late at night if you want to party heavy and gamble cheap. There is a $3 craps table open most any time of the day or night. The Sheraton also features great people-watching, since the randoms there are a lot less depressing than the ones at Bally's.

On my last trip to Tunica, my buddies and I saw the best "That Guy" of the whole trip at the Sheraton: Mid-forties, bad comb-over, wearing drug-store shades and a vintage maroon Members Only jacket in mint condition. He didn't like the fact that we were betting wrong and he and his buddy celebrated a little too much when his buddy made a 4 and a point 10 and cost us $60 bucks apiece. So we doubled up on the next come-out roll and his buddy proceeds to roll 2-10-4-8-7. Blammo! That Guy and his buddy were soon gone.

Submit your own comment on Sheraton Tunica.