Standard House Chip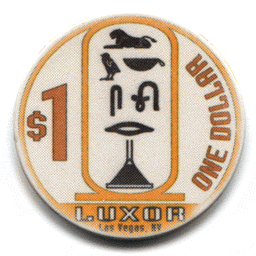 Identical Front/Back
Luxor
3900 Las Vegas Boulevard South
Las Vegas, Nevada 89109

Owner:
Mandalay Resort Group [MBG]

A Little About Luxor
The Luxor is one of the most recognizable properties on the Strip. The 30 story glass and steel pyramid is topped by a powerful search light that is often the first thing you can make out from the air when flying into Las Vegas at night. It's 4,408 guest rooms (there is a second hotel tower in addition to the pyramid) and whopping 120,000 square feet of casino floor space make it the second largest hotel in the world. The Luxor features a resident show by the pioneering multimedia performance troupe Blue Man Group. Guests entering from Las Vegas Boulevard are greeted by a replica of an Egyptian Sphinx. The Luxor is nothing if not impressive.

In spite of all of its distinctive features, the Luxor lacks a strong sense of identity. This is partly because the Luxor crowd is strongly influenced by the overflow crowds from its sister properties located on either side. The twenty-something party set from Mandalay Bay and the nuclear family vacation set from Excalibur don't exactly blend to form a hopping scene. The symmetry of the casino floor also makes it the easiest place in Las Vegas to get hopelessly lost.

Submit your own comment on Luxor.